ChipBoss™ Software
New optional software from Milltronics uses proprietary algorithms to calculate toolpaths and control the maximum allowable cutter engagement resulting in:
Faster cycle times
Better tool life
More accurate parts
Cycle times can be reduced by as much as 50%  (or more) and 3-5 times better tool life
Part accuracy can improve through reduction in tool deflection
ChipBossTM uses trochoidal milling strategies with deeper depths of cut and smaller step overs:
Feed rates can be much higher than what conversational users are used to experiencing.
Reduces the number of times a machine needs to accelerate and decelerate – "less wear and tear"
Includes "Rest Roughing" – automatically calculates the areas to be machined and uses a smaller cutter to get just those areas that can't be cut with larger tool, saving even more time.
How it Works
To begin with, consider first a typical conversational program:
To avoid overheating the tool the operator typically uses multiple incremental depth cuts
Uses slower feeds and speeds
Often needs to use coolant (not always desired)
With incremental depth cuts, usually only the tip of the tool
is used
The majority of the useable flute length is being wasted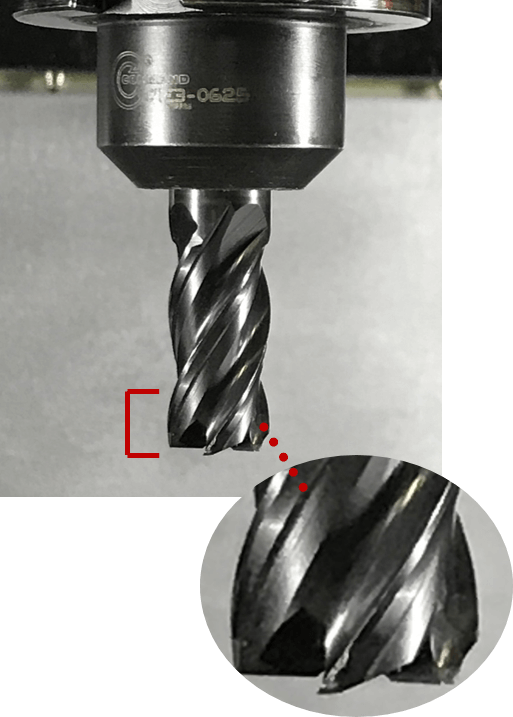 Rest Roughing
Use Rest Roughing to further improve cycle times:
Select a large diameter tool to efficiently remove bulk material, followed by a smaller diameter tool to get what the larger tool can't reach
Rest cycle does just the "rest" areas, no need to re-cut entire profile
All automatic – just select from drop down menu and the software calculates everything for you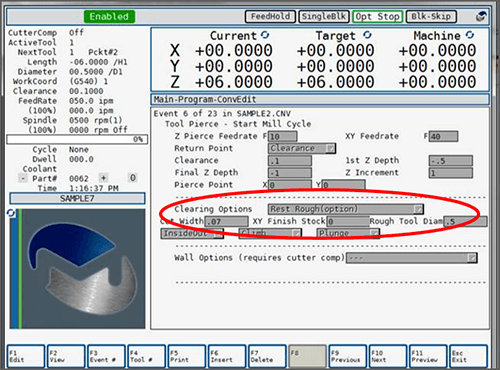 Milltronics Shop View
Machine monitoring, communications and diagnostics at the tips of your fingers. With Milltronics Shop View (MSV) you have instant access to your machine's status including programs, set-ups, digital readout, live snap shots of machine cutting video, spindle load, spindle hours, machine events log, file transfers, alarms and more— even when you're not there!
MSV uses advanced cloud based monitoring, communication and diagnostics technology through an internet connection to your machine.
MSV is conveniently hosted in the cloud by Milltronics servers and eliminates the need of extensive IT infrastructure or expertise at your shop. All you need to do is point your PC, tablet or smart phone to msv.milltronics.com. The MSV platform is hosted on a secure network which users are able to log in and access their account through a responsive website with end-to-end encryption.MSV is compatible with Milltronics 9000 Series CNC controls or 8200-B
Features
Industry 4.0 and MTConnect compliant
Sortable and searchable dashboard list for quick selection
Machine dashboard shows live data
Tab view allows enlarged images/videos of screens
Searchable machine file directory, registry and event logs
Machine settings allow a user defined name to be entered to easily identify program or part running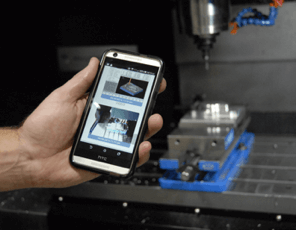 Optional Software Feature FAQ
Digital Set-Up Assistant (DSA) uses Wi-Fi to make a cell phone or tablet an extension of the user's control. This optional software feature allows an operator to reduce setup time by easily accessing photos of parts and workholding, set-up data, tooling info and more.
How does DSA improve efficiency?
Users can easily document part setup instructions for others to reference.
Stores part-related files grouped as packages for easy recall.
Packages associated with selected parts are automatically recalled and displayed.
Part Setup Information is readily available on hand-held device.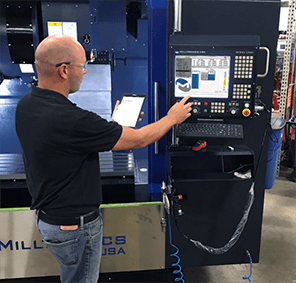 What kind of information does DSA store and display?
User Generated
Textual Notes
Photos/Images
Videos
PDFs
Automatically Generated
3D Solid model rendering of finished part
Run statistics
Tools used in the part program
Part Program Edit and Run history
How does DSA differ from MSV?
Digital Setup Assistant
Assist in Setting up Parts
Part-Centric Information
Peer-to-Peer Intranet Networking
App-Based
Milltronics Shop View
View the Status of Machines in your Shop
Machine-Centric Information
Cloud-Based Internet Networking
Web-Based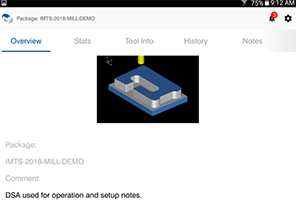 Bi-Directional Turning Cycle
Milltronics Bi-Direction Conversational Turning:
Improving productivity by up to 60%
Increases tool life.
Improves surface finish.
Improve turning speed and efficiency while taking advantage of the latest insert technology allowing for cutting forward and reverse, down to and up from.
Your Milltronics Control on the Cutting Edge!